Terry Patten was born in 1951 near Chicago, Illinois. When he was 6, his family moved to the York Center Community Cooperative, an intentional community founded by members of The Church of the Brethren who invited people "of all races and religions to live together with us as a witness for peace and brotherhood." He received his B.A., magna cum laude, from the University of Michigan, Ann Arbor, where he received three coveted Hopwood Awards for his fiction and poetry.
In 1973, he became a student of the brilliant and controversial American spiritual teacher, Adi Da Samraj. During his 15-year period as a formal devotee, he co-authored (with Adi Da and Saniel Bonder) the classic book Garbage and the Goddess and served as a founding editor of The Dawn Horse, Vision Mound, and The Laughing Man magazines. You can learn more about Adi Da's teachings here. 
In 1988, Terry founded Tools for Exploration (now Tools for Wellness), which first brought together in one place many of the emerging brain-mind machines, subtle energy tools, and other cutting-edge technologies for expanding awareness. Terry co-designed, co-produced, and co-authored numerous biofeedback tools, psycho-acoustic recordings, books, and articles on stress reduction, peak performance, and neurodevelopmental re-education. During his ten years of leadership, the field grew dramatically and Tools For Exploration's annual revenues rose to over 2.5 million dollars.
After selling Tools For Exploration in 1998, Terry co-directed two grassroots environmental organizations. One of these, Old-Growth Again, demonstrates a new economic model for sustainable Redwood forestry.
Terry became a teacher and senior associate of Integral Institute in 2004. He worked closely with Ken Wilber and a core team at I-I to develop Integral Life Practice, which distills ancient and modern practices (for body, mind, spirit, shadow, and other key areas) into a
contemporary transformational lifestyle. He then served as a senior trainer at I-I Seminars and co-director of I-I's Integral Coaching Center. He also holds a Master of Arts degree in Consciousness Studies from John F. Kennedy University; in his thesis, Terry analyzed how higher levels of awareness can be fostered by Integral coaching.
In March 2007, Terry traveled to Iran as a part of U.S.-based civilian diplomacy delegation. I-I's Holons News asked him to blog about his trip; hence, Integral in Iran, where Terry reflects on the dynamic (and often troubled) relationship between Iran and the United States—on multiple levels and from multiple perspectives—while attempting to catalyze a more Integral dialogue oriented toward mutual understanding.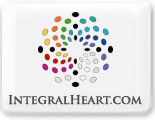 In December 2007, Terry launched The Integral Heart, a website that "engages our critical evolutionary moment, exploring the perspectives and practices that can cultivate a life of greater awareness, growth, freedom, vitality, service, and ultimately, love." In 2010, IntegralHeart.com became IntegralSpiritualPractice.com, and has sinced morphed into TerryPatten.com. Terry's website features video, audio, articles, and blog posts all focused on how to live with an Integral mind, heart, body, and soul, while participating fully in our dynamic and beautiful world.
Terry co-authored Integral Life Practice: A 21st-century Blueprint for Physical Health, EmotionalBalance, Mental Clarity, and Spiritual Awakening with Ken Wilber, Marco Morelli, and Adam Leonard. The book was published by Integral Books/Shambhala in 2008.
His new book, A New Republic of the Heart: An Ethos For Revolutionaries, A Guide to Inner Work for Holistic Change will be released by North Atlantic Books in early 2018.
In 2007, he joined the Editorial Board of The Journal of Integral Theory and Practice and in 2008 the Executive Board of the Wellspring Institute of Neuroscience and Contemplative Wisdom. From 2009-2011, he was part of the faculty of the Integral Executive Leadership program of the Mendoza School of Management at The University of Notre Dame, helping to design and deliver their program, Unleashing Your Leadership Potential. He has also taught at Columbia University, San Francisco State, and John F. Kennedy University.
Terry travels widely, speaking, teaching, consulting, challenging, and connecting leaders and institutions worldwide. He hosts the acclaimed online teleseminar series Beyond Awakening: the Future of Spiritual Practice where he has engaged leading-edge conversations with many of the world's most renowned thinkers and teachers.
He lives in Marin County, CA. His son, Michael, is a graduate of NYU's Tisch School of the Arts, where he studied film production, art, and creative writing.