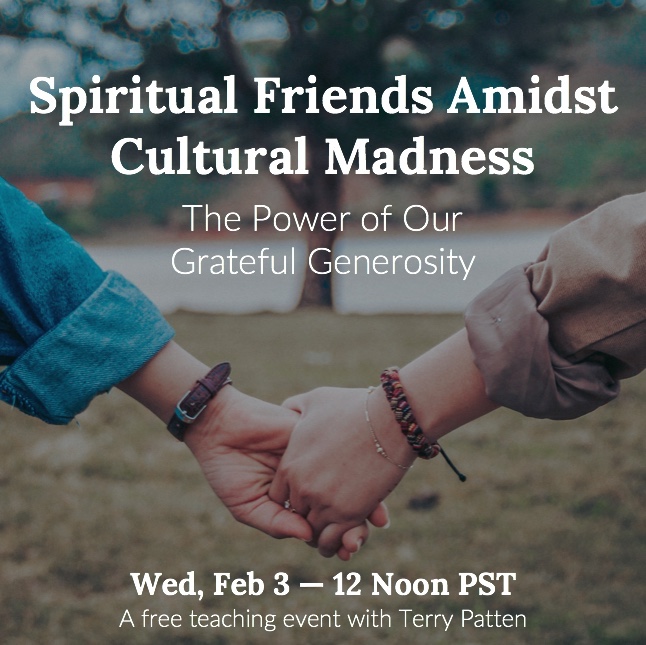 I will be offering an important free online on Wednesday, February 3rd. One of our key leverage points in this fragmenting world is our capacity for radical generosity and spiritual friendship.
Does love "develop"? Are there higher "stages" to friendship? Might next-stage friendships be our survival superpower amidst our current crisis of fragmentation, alienation and collective mania? Can they enable us to be more effective citizens of our world-in-crisis? 
You're invited to register now for Spiritual Friends Amidst Cultural Madness: The Power of Our Grateful Generosity — a free live event next Wed, February 3rd at 12 Noon PST (CA).  Once you've registered, you'll receive a link to join live or watch or listen to the recording.
In an increasingly fragmented and destabilized world, we need dynamic spiritual friends who are humble and open, who can meet us at the heart amidst whatever craziness arises, and who can support us as we endeavor to make a real beneficial difference.
In deep spiritual friendship, "we are wiser than me." We stabilize each other, we deepen one another's transformation, and we arrive at a radical generosity that is required by our unprecedented challenges. By practicing together, we can become exemplary friends and change agents who can stay in compassionate relationship with people who are being sucked into delusion — we can refuse to put anyone out of our hearts.
Register for the major free online event "Spiritual Friends Amidst Cultural Madness: The Power of Our Grateful Generosity" on Wednesday, February 3rd 2021 @ 12 Noon PST when I will share new insights highlighting our profound opportunity to become the dynamic spiritual friends adequate to our current crises.